Enento Group is one of the leading providers of digital business and consumer information services in the Nordic countries. Enento's roots reach all the way back to the inception of the Finnish credit management industry when Enento's predecessor was founded in 1905 by the largest Finnish banks, wholesalers and retail chains.
Enento's products and services are primarily used for risk management, finance and administration, decision-making and sales and marketing purposes. Enento has a diversified customer base both in terms of customer concentration and industry exposure. Our key customer industries include finance and banking, wholesale and retail trade and expert services. Depending on the products and services, our offering is mainly used by our customers in B2B and B2C activities.
We offer a broad selection of services that are based on our comprehensive database. Data is acquired from several data sources as well as through our own data gathering processes. Our products range from basic report extracts to sophisticated risk management solutions.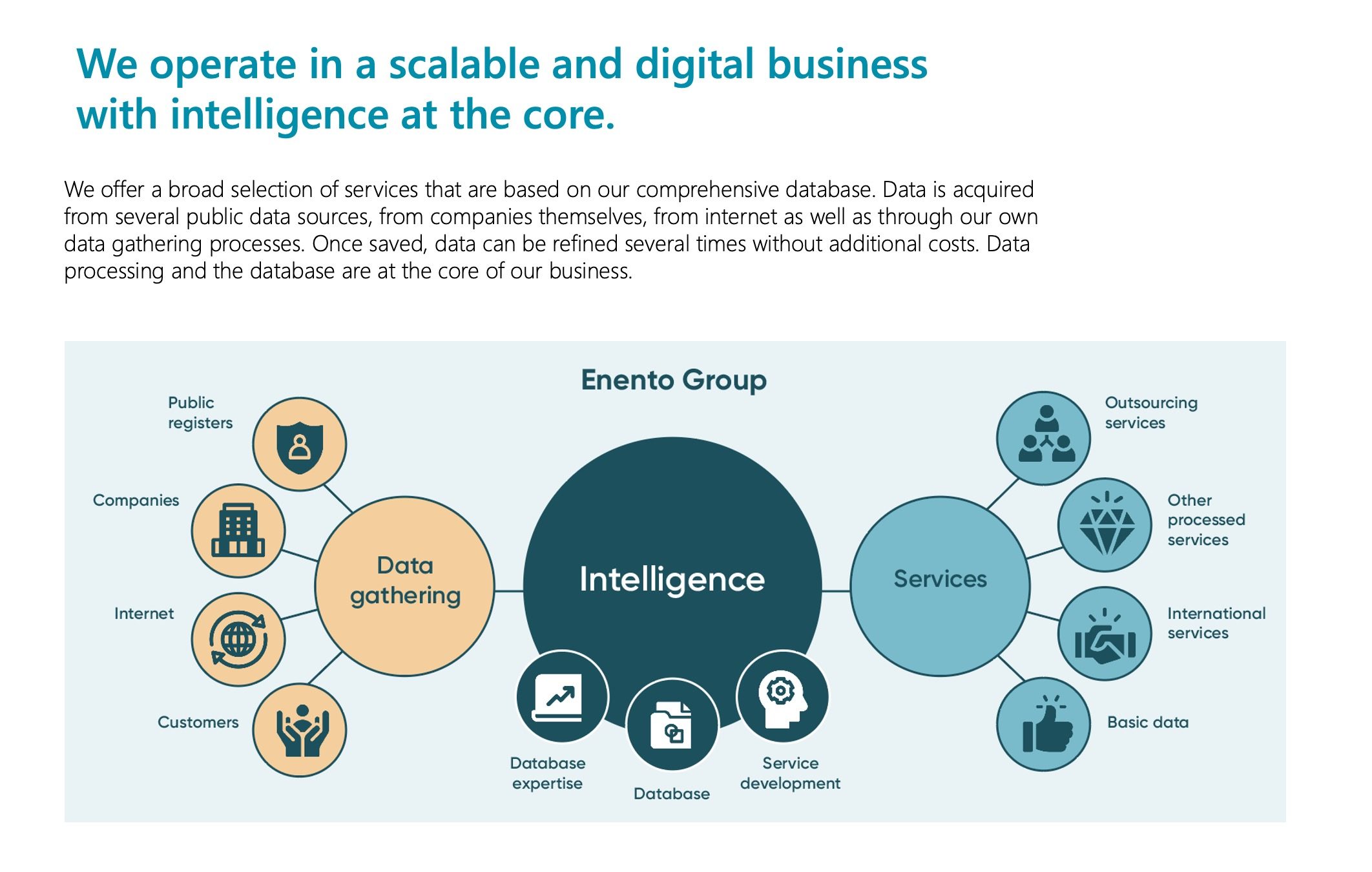 Enento's three Business Areas
Business Insight: The Business Area develops and provides leading business information services across the Nordics. The business area consists of three business lines. The Enterprise Solutions is responsible for serving and service development for the strategic and large customers in the key customer verticals, including banking and finance. The Premium Solutions business line provides business information services for the needs of SMEs. The Freemium Solutions develops freemium-model business information websites in all Nordic markets. The Business Area's key initiatives include the development of ESG services. The aim is to be the leading Nordic provider of ESG services needed by customers for risk management, credit processes, procurement, and customer management.
Consumer Insight: The Business Area develops and provides leading consumer information and decisioning services in the Nordics. Consumer Insight serves both consumers and several industries, the largest ones including finance and banking as well as e-commerce, oil and energy sectors, among others. The products and services are primarily used for risk management, finance, administration and decision-making. The services for consumers help them to understand and better manage their own finances, protecting them also from identity theft and fraud.
Digital Processes: The Business Area's range of services includes real estate and apartment information, information about buildings and their valuation as well as solutions to automate collateral management processes and digitalize the management of housing transactions. In addition, compliance services to identify companies' beneficial owners and politically exposed persons.
Long term financial targets
The long term financial targets
Growth:
5 to 10 percent annual average net sales growth.
Profitability:
Adjusted EBITDA growth rate exceeding net sales growth rate.
Balance sheet structure:
Net debt to Adjusted EBITDA below 3x.
These financial targets constitute forward-looking statements that are not guarantees of future financial performance and Enento's actual results of operations could differ materially from those expressed or implied by these forward-looking statements. Any financial targets discussed herein are targets only and are not, and should not be viewed as forecasts, projections or estimates of the company's future performance.
Enento's financial targets are based on a number of assumptions, including among others, assumptions as to the development of the Finnish economy and the development of the company's business operations. Key assumptions regarding the development of the company's business operations include the success of product and service development, launches of new products and services and retaining key customer accounts. These assumptions underlying the company's financial targets may not prove to be correct and the results of the company's operations may deviate significantly from financial targets.