Welcome to the captivating world of investor relations. Today, we will share some insights of our ownership structure. Also, we want to introduce you to the diverse and dynamic group of shareholders that fuel our growth and success.
A Diversified Ownership Structure of 6.000 shareholders
At Enento Group, we believe that a balanced and diversified ownership structure is the cornerstone of our long-term stability and prosperity. Our ownership structure comprises a mosaic of both institutional investors and individual shareholders. They bring unique perspectives, expertise, and strategic value to the table. In April 2023, the number of shareholders crossed the mark of 6.000 for the first time.
Enento Group proudly hosts a range of prominent institutional investors. There are financial institutions and investment firms, such as banks, pension funds, insurance companies, and asset management companies. Their presence not only demonstrates confidence in our ability to deliver consistent results but also underlines the appeal of our business model, offering and strong market position across the Nordics in various sectors and industries.
The share of "non-domestic" owners has been steadily increasing from the days of initial public offering in 2015 until today. More than 50% of Enento shares are owned by foreign investors (= parties registered outside Finland). These owners are part of the so called "nominee register" and sometimes it might be a bit confusing to read our major shareholder table available at our investor website. The nominee register includes all our foreign investors. Besides Finland, approximately 40% of the share capital are owned by shareholders registered in either Sweden or in the United States.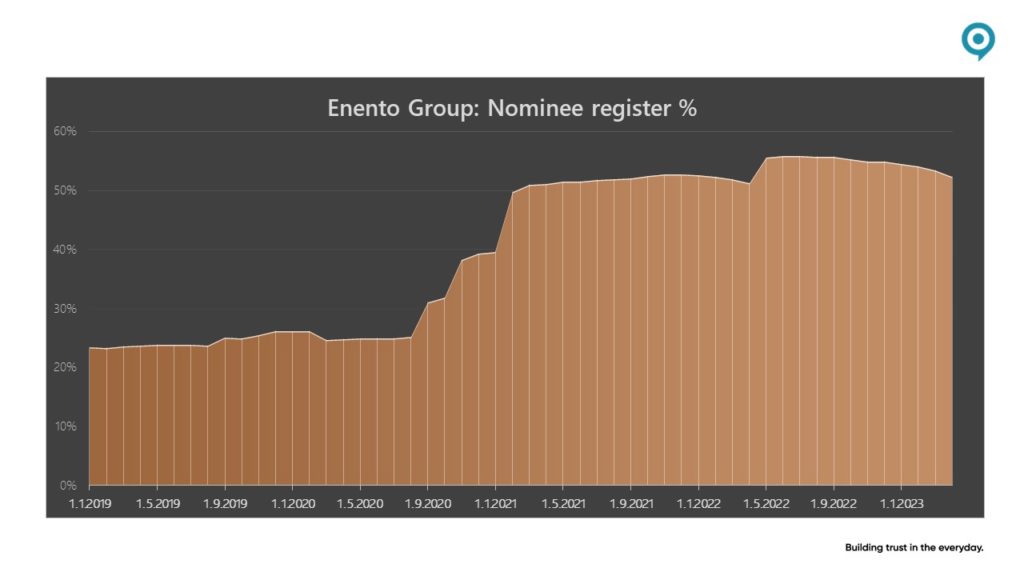 Beyond institutional players, Enento Group is delighted to have a growing community of individual investors who are passionate about our mission and vision. They probably come from diverse backgrounds, and with different kinds of perspectives and motivations to own a piece of the company. Today, we have more than 5.300 households owning Enento shares, and the number keeps climbing every month.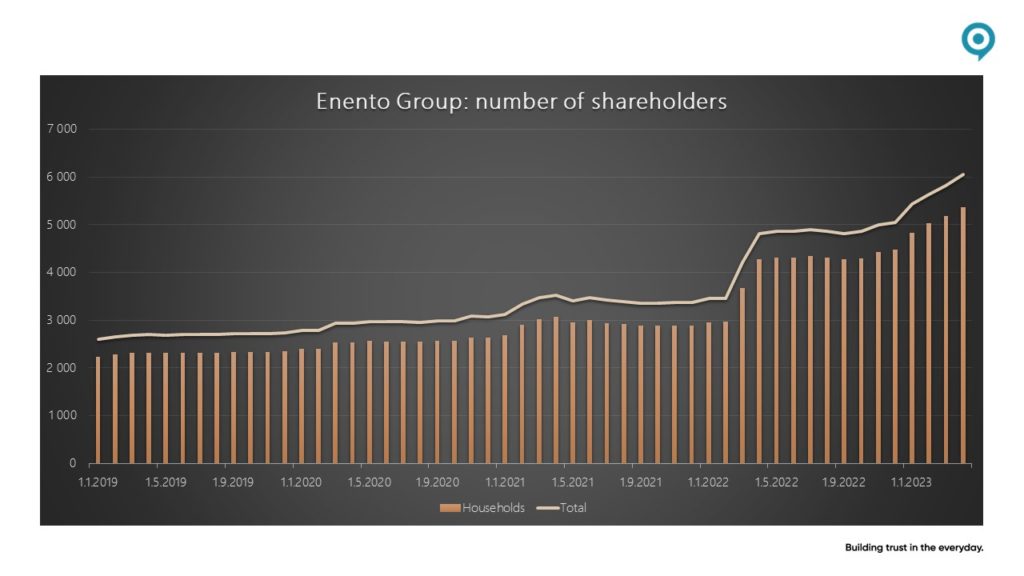 Together Towards the Future
Regardless of the shareholder type, size, or country of origin, we want to maintain an open and transparent dialogue with our investors. We want to ensure they are informed about our strategic initiatives, financial performance, and growth prospects. By fostering this two-way communication, we actively seek feedback and insights from our shareholders, which ensures alignment between our objectives and their expectations. We value our shareholders' commitment and strive to reward their trust through profitable growth, strong financial performance, and active capital allocation to create consistent, long-term shareholder value.