Thank you, all fantastic colleagues and customers, for the true engagement and cooperation during the year! I am proud that we today can launch our second sustainability review – the Sustainability Review which summarize 2021. Please read it here
Our emissions continued to decrease in 2021
We have set an ambitious target to work towards net zero-emission to decrease our internal environmental impact. Our total carbon footprint for 2021 was 323 tons of CO2e, according to the market-based method. 44 % of total emissions come from IT equipment. The second-largest source of emissions of 24 % was traveling, followed by the third-largest source of employees commuting of 13%. The CO2 intensity measured in terms of employees was 610 kgCO2e, a decrease of 896 kgCO2e from 2020 and 2.3 tons from 2019. We are very proud that we have reduced our emissions by 87,5% since 2019! The reduction in 2021 was due to a continuous reduction of travel emissions related to flights and its hosting suppliers changing to renewable energy.
In 2021, we become Great Place to Work certified in Sweden, Finland and Norway
At Enento we have a friendly culture built on trust, where people truly believe in and care for each other. In our yearly employee survey, the trust index results from 2021 show that we are in a very good position. We received a total Nordic result of 79%. The results showed that one of our biggest strengths is that people trust their closest manager which got a trust index of 90% and that Enento in general is a great place to work, 84%, and that employees feel proud to work for Enento, 84%.
Our net impact ratio was 51%
The net impact profile is calculated according to a methodology developed by The Upright Project. The Upright Project's model aims to build a bigger picture of what kind of value companies create. Enento Group's net impact ratio in 2021 was +51%, which is among the best 20% of all analyzed companies worldwide. Since 2021 we are collaborating with the Upright project to calculate our net impact on society. The Upright Project's model aims to build a bigger picture of what kind of value companies create.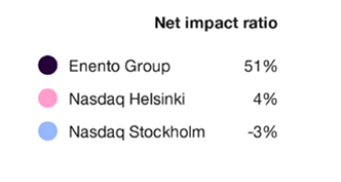 We are soon to launch our new Nordic ESG offering
We are always using high-quality data in all our services and by doing so we can make sure our services are always reliable. We keep updated registers on loans and credits, payment defaults as well as advanced company information. The data is acquired from several public data sources, from companies themselves as well as through our own data-gathering processes.
In addition to this, an important service development work which we have worked with during 2021 is the development of our new ESG services and ESG reports and ESG offering. ESG stands for Environmental, Sustainable and Governmental. In Finland we have offered an ESG report since 2017, now in 2022, we are really proud and happy that we will be able to launch this service also in Sweden and the ambition is to support and help companies take sustainable decisions.
We educated more than 1100 people in personal finances
Last, but not least, I am proud that we in 2021 have educated more than 1100 people in Finland and Sweden in personal finances. In Finland the name of our educational program is TarkkaFyrkka and in the name in Sweden it is The Bill. The aim of those projects is to provide young people with basic knowledge of credit information, payment defaults and management of their own finances in order to also decrease over ineptness for the future.
/Victoria